Book presentation by Markus K. Brunnermeier: The Euro and the Battle of Ideas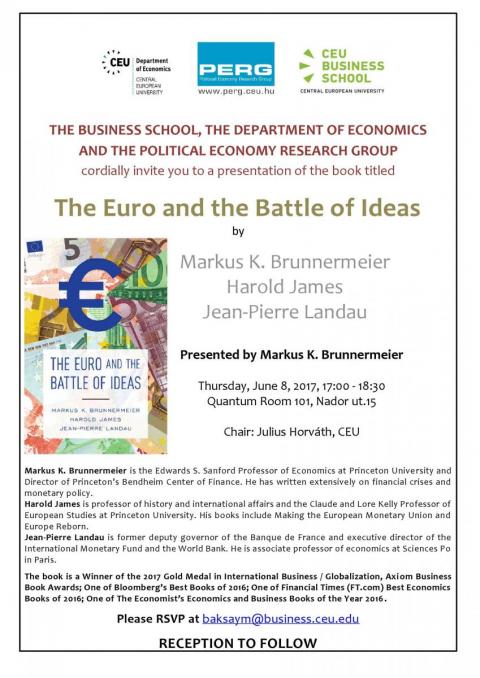 THE BUSINESS SCHOOL, THE DEPARTMENT OF ECONOMICS
AND THE POLITICAL ECONOMY RESEARCH GROUP
cordially invite you to a presentation of the book titled
The Euro and the Battle of Ideas
by
Markus K. Brunnermeier
Harold James
Jean-Pierre Landau
Presented by Markus K. Brunnermeier
Thursday, June 8, 2017, 17:00 - 18:30
Quantum Room 101, Nador ut.15
Chair: Julius Horváth, CEU
Markus K. Brunnermeier is the Edwards S. Sanford Professor of Economics at Princeton University and Director of Princeton's Bendheim Center of Finance. He has written extensively on financial crises and monetary policy.
Harold James is professor of history and international affairs and the Claude and Lore Kelly Professor of European Studies at Princeton University. His books include Making the European Monetary Union and Europe Reborn.
Jean-Pierre Landau is former deputy governor of the Banque de France and executive director of the International Monetary Fund and the World Bank. He is associate professor of economics at Sciences Po in Paris.
The book is a Winner of the 2017 Gold Medal in International Business / Globalization, Axiom Business Book Awards; One of Bloomberg's Best Books of 2016; One of Financial Times (FT.com) Best Economics Books of 2016; One of The Economist's Economics and Business Books of the Year 2016 .
Please RSVP at baksaym@business.ceu.edu
RECEPTION TO FOLLOW