BlackRock donates to MS in Business Analytics, MS in Finance Scholarships – Apply by August 14
BlackRock donates to MS in Business Analytics, MS in Finance Scholarships – Apply by August 14

Are you a full-time candidate passionate about financial services, data analysis and technology? Would you like to study for a specialized business master's in Budapest and Vienna, and start working at any time?
▶ CEU BUSINESS MASTER'S PROGRAMS
BLACKROCK DONATES TO WOMEN IN TECHNOLOGY PROGRAM
We are thrilled to announce that BlackRock, the world's largest asset manager, has made another generous donation to CEU's Women in Technology Scholarship Program. The program is open to full-time applicants for the MS in Business Analytics and MS in Finance.
▶ CEU BUSINESS MASTER'S SCHOLARSHIPS & AID
JOIN OUR INFO SESSION – JUNE 18 6M CET
Ask all your questions about CEU and our programs. Hear first-hand experiences of students. Learn about career outcomes, working during your studies, partner schools and the CEU InnovationsLab. Hear about scholarship/internship programs with industry partners. Get insider tips about the application process.
▶ CEU BUSINESS MASTER'S WEBINAR

MS IN BUSINESS ANALYTICS, MS IN FINANCE – APPLY BY AUGUST 14
Applications are now closed for non-EU/EEA candidates who need a student visa to study in Hungary.
For entry in September 2020, we accept the online Duolingo English Language Test for English proficiency.
▶ ADMISSION REQUIREMENTS
▶ CEU'S RESPONSE TO THE CORONAVIRUS CRISIS
SCHOLARSHIP/INTERNSHIP PROGRAMS WITH INDUSTRY PARTNERS
To be considered for named scholarship/internship programs offered with valued industry partners, submit the Scholarship Application Form.
Future of Big Data Scholarship & Training Program* 

– A London boutique investment firm will award applicants who demonstrate passion for financial services, data analysis and programming. The recipients will be considered for an internship in London.



Women in Technology Scholarship Program

 – 

BlackRock and CEU will award scholarships to women who show passion for data analysis, programming and technology, and great potential or leadership in their professional and personal endeavors.

Morgan Stanley Internship Program

 – Morgan Stanley will award internships in its Finance, Risk, Quantitative Finance and possibly other teams in Budapest. Selected candidates may be awarded partial tuition waivers. The internships can lead to full-time job offers.



* Additional funding subject to confirmation
▶ CEU BUSINESS MASTER'S SCHOLARSHIPS & AID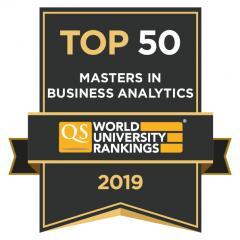 BUSINESS MASTER'S PROGRAMS GUIDED BY INDUSTRY
Earn a specialized U.S. Master of Science degree. Join full-time or part-time, with the option to change. Ten months, with the option to extend. Study and work, with classes two afternoons a week or on weekends. Learn from top international faculty and industry veterans.
MS in Business Analytics

 – A unique mix of analytics, computer science and business. Learn programming, dive into data analysis, big data and cloud computing, machine learning and data engineering.

MS in Finance

 – A program designed with industry. Focus on financial management, investments and banking, or financial technology and innovation. Embrace data analytics and technology.

MS in Technology Management & Innovation

 – Combine your tech expertise with business, finance and leadership skills to become a tech leader, or incubate your startup in the CEU InnovationsLab.

Fintech Management Parallel Studies

 – Earn the MS in Finance and MS in Technology Management & Innovation. Become a fintech leader or develop your fintech startup.
▶ CEU BUSINESS MASTER'S PROGRAMS
Budapest and Vienna rank among the EU's top financial services and technology hubs, and best places for expats. Employers competing for international talent include BCG, BlackRock, Citi, Deloitte, GE, Google, IBM, JP Morgan, McKinsey, Morgan Stanley, MSCI, NN, Nokia and TCS. In 2019, 95% of full-time students were employed at graduation and 100% six months after graduation.
Join partner business schools on four continents. Go for a course, a summer program or an entire semester, with access to MBA courses.
Any questions? Email us.