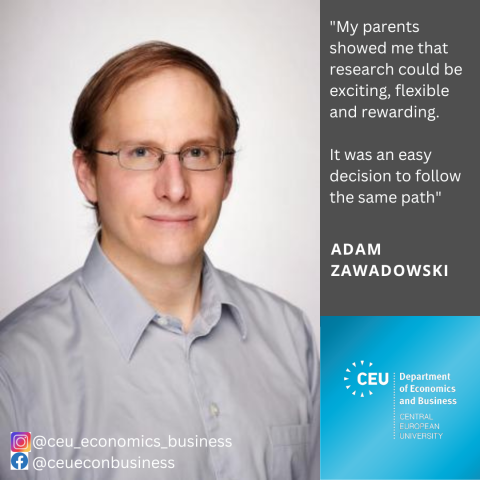 Adam Zawadowski
Head of Department of Economics and Business
Associate Professor
What informed your decision to become a professor?
My father was a Professor of Solid-State Physics while my mother was a Researcher in Space Physics. Growing up, I observed their passion for their work and how they enjoyed solving problems, teaching, and imparting knowledge. Their example showed me that being a researcher is an exciting, flexible, and very rewarding job. It was an easy decision for me to follow the same path.
What is the class you are most excited about and why?
My first task at the Boston University Questrom School of Business was to teach an investment class. The first time, this did not go very well as I did not fully understand what students were interested in. Over time, I refined the course material after realizing that the best approach to learning was to engage students throughout the course. The course has evolved into what is now the Trading and Portfolio Analysis class. While it is largely theoretical, I find creative ways to make it hands on and combine practical aspects into it, including excel projects, performance of actual trades, workshop seminars etc.
I enjoy teaching this class and watching it continuously evolve. The class is also well received by the students who take it each year.
What is the best excuse students have come up with for extending a deadline?
While at Princeton, one of my professors was trying to schedule a seminar and a student said, "I am sorry sir. I cannot attend the seminar because I must play golf with my father." I was baffled, to say the least.
In my personal interaction with students, I realized after the first few years that I didn't want to deal with excuses. As a work around this problem, my students can miss up to one individual assignment. Beyond that, they need to work around their circumstances and complete all their tasks.
Is there a research project you have been involved in that had a lasting impact on your professional journey? If so, please share some insights into this. 
Together with Martin Oehmke, I conducted detailed research in defense of credit default swaps. These are financial derivatives that operate in a manner like insurance policies and allow an investor to swap or offset their credit risk with that of another investor. The findings demonstrated that a well-regulated credit default swap can be beneficial to society. This work has been cited extensively, including by The Economist, Central Banks, Policy Circles etc. It is undoubtedly one of the most impactful research projects I have been involved in.
When I consider credit default swaps and the perceived risk with using them, the thought that comes to mind is that we don't burn kitchen knives just because atrocities can be committed with them. Instead, we use them responsibly and make sure they are used for the social good.
Link to the research paper! 
Who in the Economics and Business field do you look up to?
Markus Brunnermeier is an Economist and Professor at Princeton University. I worked very closely with him during my Doctoral studies and greatly admire his attitude and taste for research. He is very approachable, kind and understanding. Beyond that, he is a successful researcher who addresses topics that are very relevant to the real world.
During the global financial crisis, I vividly recall one instance where he was unable to attend an earlier scheduled meeting as he had been called to the White House to explain his understanding of financial markets. While research may look abstract and mathematically elegant, it is the pathway to obtaining such a deep understanding of a topic that can enable you to make significant contributions to key stakeholders, including Governments, when they are faced with critical decisions. 
What is your favorite quote?
I like the famous quote by Lou Holtz "Never tell your problems to anyone, 20% don't care and the other 80% are glad you have them."
This is a great reminder to always be positive and find the good things in life instead of complaining about the bad things.